Why Common Law Marriage in Texas Can Benefit Couples
May 09, 2023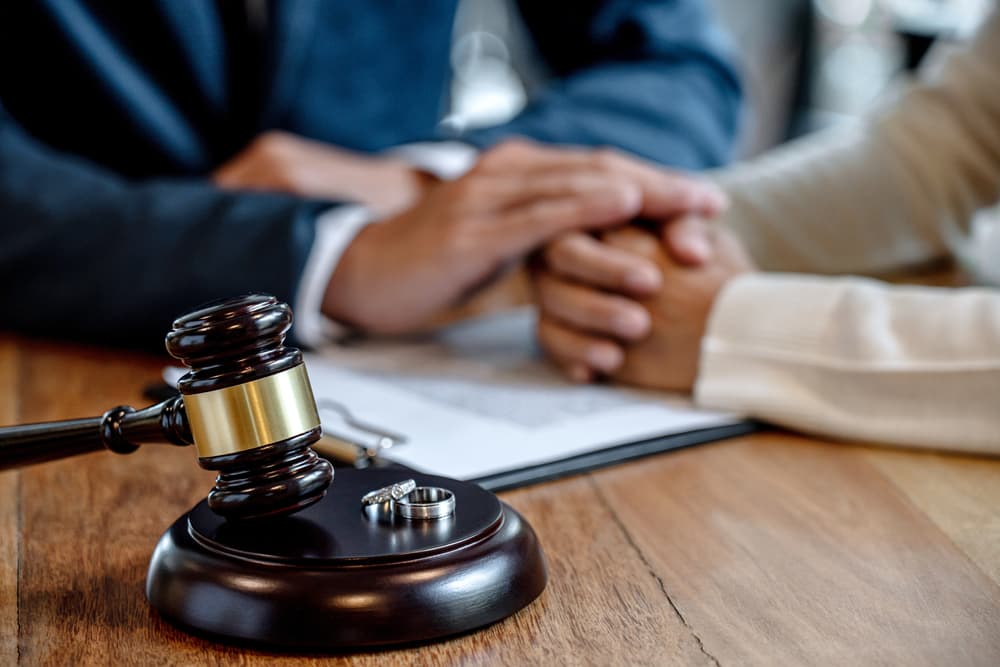 Did you know that a couple who lives together but never formally tied the knot can still be legally married in Texas? 
This type of union is known as a common law marriage. It affords both partners the same protections as a married couple.
The Fort Worth family law attorneys at Mims Ballew Hollingsworth⏐Family Law would like to discuss the rights and benefits a couple has upon entering a common law marriage.
What is a Common Law Marriage?
According to Texas Family Code § 2.401, certain criteria must be met for a valid common law marriage to exist. The couple must:
Agree to be married (a couple may sign a declaration of marriage form with the county clerk's office in order to prove their intent to be married.)

After the agreement, they cohabitate in Texas as husband and wife; and

They represented to others that they were married.
The Supreme Court's ruling in Obergefell vs. Hodges, 576 U.S. 644 (2015) requires all states to recognize same-sex marriage. Although the Texas legislature has not yet updated the statutory language, the law pertains to same-sex couples as long as they meet the same criteria. 
Hence, any state that recognizes common law marriage for heterosexual couples must recognize common law marriage for homosexual couples. 
History of Common Law Marriage
In 2021, 5.8 per 1,000 residents got married in the state of Texas. The marriage rate in the Lone Star state is more than four times the divorce rate of 1.4 divorces per the same population size. Although a high matrimony rate, many couples have instead chosen to commit to each other through informal marriage.  
Common law, or informal marriage, is a concept that originated in ancient Rome. In the Western Hemisphere, the idea of both spouses having a mutual agreement to be married can be traced back to England. 
Common law marriages occurred out of convenience since it was often difficult to find someone to preside over a wedding ceremony.
In 1877, the United States Supreme Court ruled that a common law marriage was a valid form of marriage. The Supreme Court stated that common law marriage would be valid in every jurisdiction unless there was a statute forbidding it. 
Avoiding the Legal Complications of Traditional Marriage
Couples in a common law marriage do have some benefits over those partners applying for a marriage license:
Spouses do not have to wait the required 72 hours from applying for their marriage license to partaking in the marriage ceremony.

Spouses do not have to take a premarital education course that is recommended to those applying for a traditional marriage license.

Spouses avoid the hassle of applying for a marriage license, which requires each person to bring a certified copy of a birth certificate, driver's license, passport or military identification card, and his or her Social Security card.

Spouses avoid the cost of a marriage license ($60 in cash)

Spouses avoid the burden of finding an officiant (ordained minister, priest, rabbi, justice of the peace) to perform a marriage ceremony.
Establishing Legally Binding Relationships without a Formal Ceremony
In order to establish a common law marriage, the couple must first show that they are eligible to be married. In order to be eligible to marry, both persons must:
Reach the age of majority (18 years old);

Neither person can currently be married to another person;

Neither person could have had a divorce in the past 30 days; and

Both persons must be unrelated or not too closely related, prohibiting relations between first cousins and closer. 
It is commonly believed that a couple must live together for a set period of time in order to be recognized as having a common law marriage. This is simply not true. 
In order for a common law marriage to be recognized, the couple must represent themselves as being married to each other. 
There are a number of ways that a couple may represent to others that they are married, including:
Both people wearing wedding rings

Introduce themselves as being married

Filing a joint tax return

One person assumes the other's last name

Owning property together

Sharing a joint bank account

Sharing household expenses

Having children together
A spouse in a common law marriage can enjoy the added financial perks of:
Life insurance death benefits

Disability benefits

Social Security survivor's benefits

Retirement plan, pension, and annuity benefits
It is important to have a common law marriage verified in the event that you separate later on. According to the Texas Family Code, you have two years after your separation to prove that you were in an informal marriage. 
Nonetheless, if one person claims that a common law marriage never existed, then it is the sole responsibility of the other spouse to prove otherwise.
Spouses in a common law marriage retain inheritance rights, which is especially important if one spouse dies without a will. 
Only a formal divorce process or the death of either partner will terminate a common law marriage. Simply separating from your spouse will not end your informal marriage.
Protecting Property Rights and Assets in a Long-Term Relationship
Couples that cohabitate for an extended period of time may acquire a significant amount of property. For couples that are cohabitating, it is wise that they sign a cohabitation agreement in the event that they separate. 
A cohabitation agreement is necessary for couples that have pooled their finances and share the burden of household expenses. This type of agreement is not crucial for couples who live like roommates, keeping their finances separate and sharing expenditures.
A cohabitation agreement should address the following issues:
How owned property will be handled during the marriage

How finances will be pooled during the marriage

How expenditures will be handled or financed

If renting: How rent and other communications with landlords will be handled 

Whether the spouses will have joint or separate bank accounts

If purchasing a home: which spouse will keep the primary home in the event of separation

If either partner owns investment property: what will happen to this property in the event that the couple separates or one partner dies

How debts will be handled in the event of separation

If either partner will have to pay spousal support or child support in the event of separation
If a couple owns property together, it is imperative that both partners review the form of ownership on the deed. 
Marital property in both a traditional marriage and a common law marriage will be treated similarly. Texas is a "community property" state, meaning that all property acquired during the marriage is owned by both spouses, except for a few exceptions. 
Below is a breakdown of the division of marital property in both a traditional marriage and common law marriage:
Property
Both spouses must consent to sell any community property, including cars or a homestead. Nonetheless, if a married couple owns property outside of Texas, the laws of that state will determine how the property is divided.
Assets
When you tie the knot, retirement funds, including an IRA, 401(K), 403 (b), a pension, and any annuities, are considered marital assets. Upon divorce, your spouse is entitled to a share of your retirement money.
Debts
Just like property and assets obtained during a marriage, a couple will also equally share any debts accrued during their union. 
There are exceptions to this rule. Separate property may exist and will include:
Property that you owned prior to your marriage

Any property that you were gifted (if it was just in your name alone)

Any property that you inherited (if you were named as a beneficiary, not you and your spouse)
No matter what form of marriage you have chosen, speaking with a Fort Worth property division attorney will benefit you long-term. 
Securing Health and Retirement Benefits through Common Law Marriage
Employers should verify with health insurers and retirement service providers that common law spouses are covered under their programs.
Retirement Benefits 
As previously mentioned, a spouse in a common law marriage will be entitled to the same retirement benefits as those in a traditional marriage.
Social Security
If your spouse dies, you will still be entitled to survivor's benefits. You are eligible to receive benefits if you are 60 years of age or older. A spouse can receive the deceased spouse's entire benefit if the deceased reaches full retirement age.
However, if your spouse is still alive, you may be eligible to receive Social Security spousal benefits.
The following conditions must be present:
Your spouse is already collecting retirement benefits.

You have been married for at least one year.

You are at least 62 years old (unless you are caring for a disabled child or under the age of 16 years old, then this rule does not apply)
You will only be able to collect between 32.5% to 50% of your spouse's social security benefit. This is the amount to which they are entitled once they reach full retirement age. 
If you are also eligible to receive your own personal benefits, Social Security will pay you the higher of the two amounts.
Pensions, 401(K)s, 403(b)s, IRAs
The importance of establishing a common law marriage is key when spouses divorce, or one partner passes away. Common law spouses will have the same rights as spouses in a traditional marriage.
Annuities
An annuity is an insurance product that a retired couple may opt to purchase. It guarantees a regular monthly income for the entirety of the contract. It is a viable investment tool that can provide a regular source of income.
If you and your spouse file for divorce, your spouse will most likely get a part of your annuity as part of the asset division. 
If you are married at the time of your death, your spouse will be able to receive your annuity payments if you purchased a joint-life annuity. Be aware that your spouse's benefit amount will be less than the original payment you were receiving.
Health Insurance
Employer-sponsored coverage, including health insurance obtained through an employer, is not allowed to exclude common law marriage. The insurer is subject to state regulations, so if your common law marriage was confirmed in a state where common law marriage is legal, then the insurer must cover you.
Unfortunately, the situation changes if you are self-insured. If you are covered under a self-insured plan, the insurer must specifically state that a common law spouse is excluded from coverage.
Federal Employees
If you are a spouse through a common law marriage, you may be eligible for FEHB coverage (Federal Employee Health Benefits). FEHB is a program offered by the United States Office of Personnel Management and is available to employees who work for the federal government.
To be eligible, you must have been married in a state that recognizes common law marriage. You will still be eligible for FEHB coverage if you move to another state and apply for coverage, as long as common law marriage was legal in the original state in which you resided.
In order to be eligible, the following documentation must be provided:
A court order or judgment from the initiating state recognizing the marriage; or your signed declaration. 

The first page of your most recent tax return lists both your name and your spouse's name

Proof of common residency and proof of combined finances
In states that honor common law marriage, such as Texas, insurers cannot exclude common law spouses from insurance programs. Insurers have to abide by state regulations, so it would be illegal if they do not provide coverage to both partners.
Speak with a Dedicated Fort Worth Family Law Attorney 
Whether you are in a common law marriage or have recently separated from your spouse, you probably have a lot of concerns about your future. We know that property and asset division can be overwhelming. Don't hesitate to contact our office today to discuss your situation.