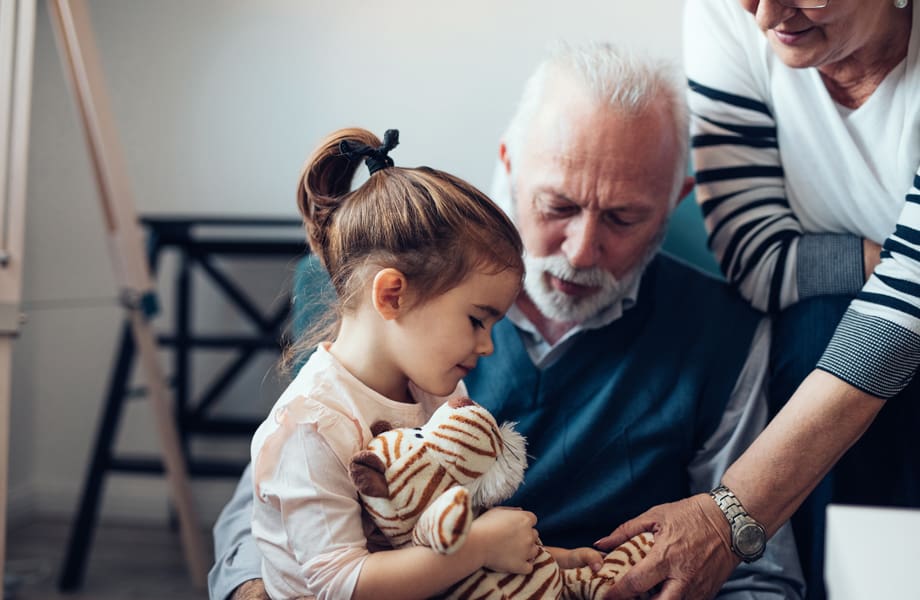 Grandparents can play a very important role in their grandchildren's lives – a role that can be enriching for both. As such, the State of Texas addresses the important matter of grandparents' rights, and having a better understanding of what this means for you can help. If you have questions or concerns about what your rights are as a grandparent, an experienced Fort Worth grandparents' rights attorney is standing by to answer your questions and help you explore your best options.
The Important Role that Grandparents Play
A recent report from the Pew Research Center shares the following statistics, which highlight the important role that grandparents play in their grandchildren's lives in this country:
The number of grandchildren who are living with a grandparent is on the rise.
In a recent year, 22 percent of grandparents reported caring for their grandchildren on a regular basis.
In a recent year, 72 percent of grandparents reported caring for their grandchildren some of the time.
Grandparents have no absolute legal right to spend time with their grandchildren. In highly specific situations, however, Texas courts do award grandparent visitation. Grandparents, however, have the burden of proving that it's in the best interests of the children, and the legalities are complex, which makes working closely with a seasoned grandparents' rights attorney well-advised.
The State's Starting Position
To begin, every decision that directly affects children made by Texas courts is based on the best interests of those children. This said, however, parents have the absolute right to make decisions regarding whom their children spend time with – barring the parent being stripped of their parental rights and responsibilities. Ultimately, the decisions parents make regarding their children are presumed to uphold their best interests. As such, there are only certain situations in which a Texas court will supersede a parent's right to deny a grandparent visitation with their grandchildren.
When a Grandparent Can Assert Rights
The circumstances under which a grandparent can seek the legal right to visitation – or custody – of their grandchildren in Texas are limited.
Parental Rights
The parental rights of at least one of the child's biological or adoptive parents have not been terminated.
Best interests
The grandparent seeking the right to visitation is able to overcome the presumption that the parent is acting in the best interest of their children by limiting visitation. This involves proving that the denial of grandparent visitation negatively affects the children's health or wellbeing to a significant degree.
Necessary Conditions
Finally, in order to seek visitation, the following highly specific conditions must apply. To begin, at least one of your grandchildren's biological parents must retain custody of them. Further, you must be the parent of your grandchildren's biological or adoptive parent to whom one of the following applies:
The court found them incompetent.
They spent at least three months prior to your filing for visitation incarcerated.
They are no longer living.
They do not have legal or actual possession of your grandchildren.
Grandparents, in other words, can only seek visitation – or custodial – rights under highly specific circumstances.
Building Your Case
In order to move the court to go against a parent's wishes in relation to grandparent visitation, there is a considerable burden of proof. You'll need to be able to clearly demonstrate that visitation is in the best interests of the children, which is a high bar. For example, if you contend that the situation in which your grandchildren live endangers them, the court will require physical evidence.
Additional Considerations
If your grandchildren have been adopted by anyone other than a stepparent, your right to request visitation ends. If, however, your grandchildren have been living with you for at least six months, it can significantly influence the outcome of your case. Often, these situations arise out of the parent having a substance abuse problem or of the parent being transient and, therefore, unreachable. Tracking down the parent is generally the first requirement when it comes to establishing custody, which is important for retaining your ability to continue caring for your grandchildren and can directly affect your ability to procure services for them.
It's Time to Consult with an Experienced Fort Worth Grandparents' Rights Attorney Near You
If you are being denied visitation with your grandchildren or if your grandchildren depend upon you for care but you have no legal rights in this regard, it can leave you in a very painful situation. When it comes to grandparents seeking visitation or custody, Texas prioritizes parental rights, and the legalities of overcoming this are challenging. There are, however, circumstances when grandparents are able to prevail, and the compassionate, highly skilled Fort Worth grandparents' rights attorneys at Mims Ballew Hollingsworth | Forth Worth Family Law dedicate their imposing practice to helping clients like you assert their visitation rights. Learn more by reaching out and contacting us for more information today.