What Is the Difference Between a Legal Separation and a Divorce in Texas?
Oct 11, 2023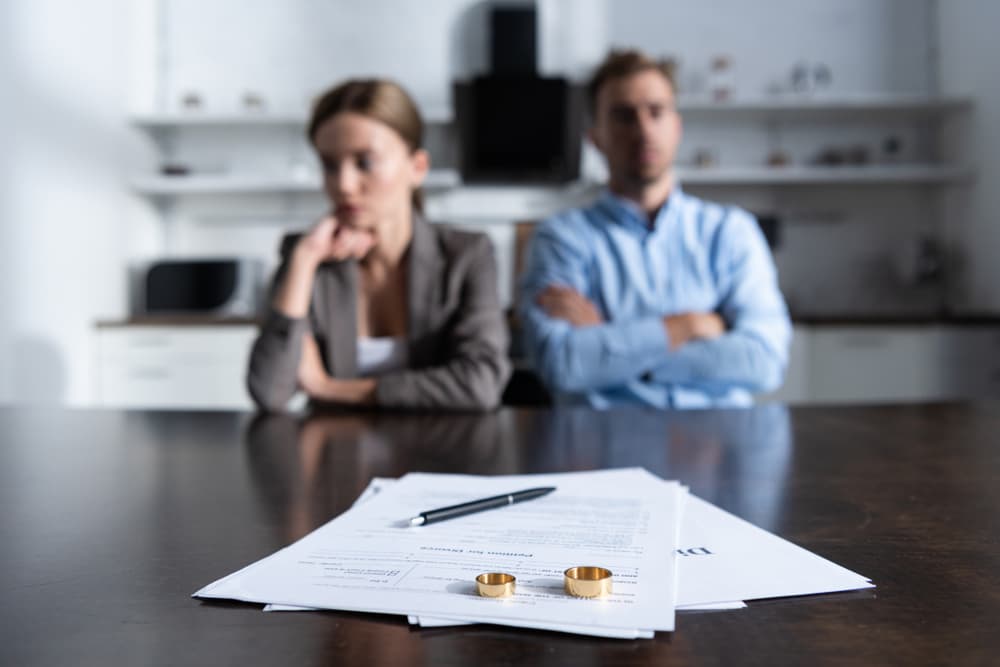 Texas is one of just six states that does not have a legal separation process for married couples. Like Georgia, Delaware, Mississippi, Pennsylvania, and Florida, the Lone Star State only offers the black and white: married or divorced. 
It's difficult to pinpoint the exact reason why Texas doesn't offer legal separation, but most feel Texas is well-known for being a traditional-minded state and that protecting marriage is highly valued. Legal separations might allow couples to live "in limbo." It could be that Texas believes by not offering legal separation, that couples will think harder before getting divorced. 
Whatever the reason, the question of legal separation versus divorce in Texas is actually a lot more complicated than it might be if asked in another state. If you are considering divorce but are unsure for any reason, it is worth it to speak with a Fort Worth divorce attorney about your options. 
What Is Legal Separation in General?
Although not available in Texas, a legal separation is basically the same as a divorce when it comes to documentation, process, timing, and the like. The only real difference is that the couple is still legally married. A legal separation can help a spouse, for example, ensure children are provided for, know that certain property is protected, and preserve important rights or benefits. 
Here are five reasons a married couple may opt for a legal separation instead of a divorce:
Personal reasons:

Some couples might believe divorce is wrong for religious or cultural reasons. There could also be motivations to protect their children. Some other circumstances could include, for instance, one spouse being terminally ill and just preferring to "ride it out."

Finances:

If a married couple does not want to live together anymore, a legal separation could, for example, allow them to still file a joint tax return, which typically has benefits over filing individually. 

Protecting children:

If a married couple with children is living apart, a legal separation gives them more flexibility than a divorce to decide on their own custody and child support terms without certain state mandates coming into play.

Health insurance:

If it is important that one spouse remain covered by the other spouse's insurance, a legal separation can allow them to live apart without anyone losing coverage.

Deportation:

If one spouse is undocumented and in the process of seeking citizenship through the marital relationship, the couple may opt for a legal separation so they can live apart without jeopardizing the undocumented spouse's immigration process.

Unsure if divorce is right:

Some couples are more motivated to preserve their marriage than others and feel that a period of separation might help them gain the distance and perspective needed to either work out their differences or confirm that divorce is best.
Informal Separation in Texas
Despite no "legal" separation being available in Texas, there are legal remedies to protect married couples who wish to live apart. An arrangement such as this is usually referred to as an "informal separation." Even in states that allow legal separations, many married couples will still choose to separate informally if they are able to agree on all the necessary terms (money, kids, housing, insurance, taxes, etc). Why involve the court and spend money on legal fees if nothing is contested? 
Likewise, in Texas, the following remedies are available to establish a safe separation:
Protective orders/restraining orders

Temporary orders

Partition agreements

Separation agreements
These remedies allow for many of the same safeguards as a legal separation would, such as outlining child support, alimony, or custody. It's also important to note that couples can remain informally separated in Texas indefinitely—there is no time limit. 
There really are no legal drawbacks to an informal separation in Texas as long as you have taken care of the necessary paperwork to protect yourself. There may be an emotional toll to an informal separation, but legally speaking, there are no "penalties" for separating informally. If you do get divorced, Texas does not require a trial separation before filing for divorce. You might even incorporate the terms of your informal separation into your divorce agreement.
Protective Orders/Restraining Orders
A protective order can be sought by anyone who has reason to believe his or her safety is in jeopardy. Protective orders, which can stay in effect without renewal for up to two years, can be issued for stalking, harassment, any kind of assault or abuse, threats, kidnapping of one's own children, neglectful conduct towards one's children, or anything in that realm. 
Because domestic violence and child abuse are often motivations for a couple to separate, protective orders are an important tool to mention here. A protective order can even stipulate who children will live with and govern any visitation rights, stipulate who will reside in the family home, and provide financial support for both the custodial parent and the kids.
Temporary Orders
A temporary order, as the name suggests, is something a spouse involved in the divorce process presents to the court to seek some kind of immediate relief or action. A judge then rules on the order and can make it take effect from a legal standpoint. Pretty much anything that could be asked for through the legal separation process can be asked for in the form of a temporary order: spousal support, custody of children, financial obligations, protecting or dividing property, visitation, paying attorney's fees or debts, insurance coverage, etc.
Suit Affecting the Parent-Child Relationship (SAPCR)
Another way separating couples can legally resolve issues of financial support and child custody is through a "Suit Affecting the Parent-Child Relationship" (SAPCR). In fact, this remedy is even available to cohabitating couples who have mutual children when they decide to live apart.
Partition Agreements
Because Texas is a community property state. If married couples do choose to live apart, that does not assets mean their individual debts and accumulated after separation become separate. Community property means that when a couple gets married, anything acquired as an asset or liability is shared between them. 
There are a few exceptions for things like inheritances and lawsuit settlements, but, for the most part, his credit card debt is hers, and her nail salon business is his. After separating, if he gets a lien put on their family home, it is also her burden; likewise, if she opens another salon and her income doubles, the gain is also his.
Through a document called a partition agreement, a married but separated couple can agree that their community property items belong to one spouse or the other. Partition agreements are not fool-proof panaceas, so you will want to have a lawyer advise you about whether this option is a fit for you and your spouse. 
Separation Agreement
A separation agreement is simply a contract that a married couple would have their lawyers draw up. This agreement would outline all the separation terms the couple wants in place during their time living apart. Because there is so much at stake, it is always best to have an experienced divorce attorney draft the document. 
Not all spouses immediately agree to separation terms, and it might require some negotiation. A divorce lawyer can identify all the necessary terms to address and help to negotiate an agreement that works for everyone involved and protects your interests and legal rights. 
Going to mediation is one way to come to an accord regarding the separation terms without involving the courts. Mediation is where a specially-trained, objective third party ("the mediator") helps a couple work through the relevant issues. 
At the mediation session, the mediator would have all parties introduce themselves, state their goals, and present their arguments. The mediator may make suggestions, but ultimately, the couple is free to agree on whatever they choose or not. 
Your lawyer usually does not attend mediation sessions, but they can advise you and strategize with you in advance, so you are well-prepared. They should also review all terms of a mediation agreement before you sign anything. A mediator will not give you legal advice, so always have an attorney in your corner ensuring you do not agree to any detrimental terms. 
Some Benefits of Separating Informally
There can be benefits to staying legally married for many couples. For example, Texas will not allow alimony for couples married less than ten years. Likewise, certain Social Security benefits are only available after ten years of marriage. Other Social Security benefits increase after ten years of marriage. Furthermore, the military also requires a couple to be married for ten years before an ex-spouse of a service member can get Uniformed Services Former Spouse Protection Act benefits.
Ultimately, the choice to pursue a divorce or live separately while remaining married is yours. However, if you separate, always ensure the proper legal safeguards are in place. 
Ask a Fort Worth Legal Separation Lawyer About Your Options
If you need help informally separating from your spouse, Mims Ballew Hollingsworth can help. We are Fort Worth family law attorneys who can guide you through the necessary documentation to safely and responsibly live apart from your spouse. Just contact us today at 817-623-4260 and set up a free consultation, or use our web contact form.