How Texas Custody Laws Affect Unmarried Parents: What to Expect
Jun 12, 2023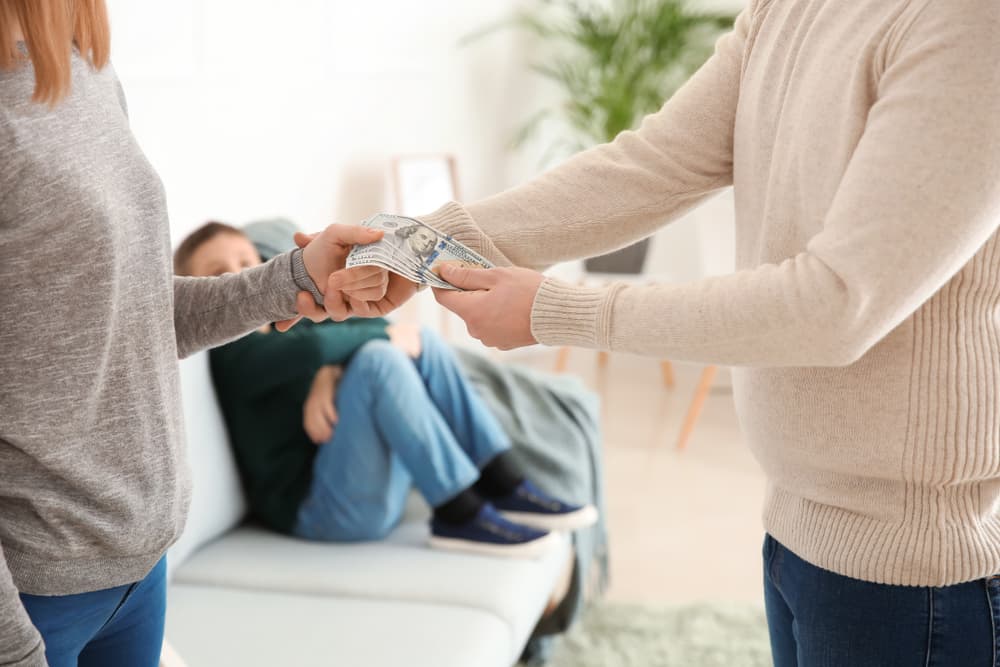 Like married spouses, unmarried couples are fully entitled to have children. Under Texas law, unwed parents have the same rights as married parents, with a few caveats and exceptions. 
If you're an unmarried parent, you may have rights to your children, including the right to fight for custody. It's helpful to understand what child custody means, how it works, and what you could expect from a custody case in Texas. Never hesitate to speak with a custody attorney in Fort Worth for specific assistance. 
When a Child's Parents are Unmarried, Who Has Custody?
It can be tricky to understand how custody works when parents are not married. Even if parents are unmarried but still together, one parent always has automatic child custody: the child's mother. 
A mother remains the custodian of her child until they are 18, absent any issues, like a judge granting shared custody or a mother being stripped of her parental rights. 
While unmarried parents may never have to fight over custody, some parents will, at some time, reach a point where custody is at issue. This can be especially tricky if a child's parents were never married and just wish to handle their child custody matter independently. 
Understanding Child Custody
Before diving into child custody and what it means for unwed parents, it's helpful to understand what exactly custody means if you are in the Fort Worth area.
While some believe child custody generally refers to where a child lives, there is much more to it than that. There are different types of child custody and custody arrangements, and the one best suited for a child and their situation varies by case. 
Physical vs. Legal Custody
Physical custody is typically the type of custody most people automatically think of. When a parent has physical custody, this means the child remains with them in their home under their care. 
While determining physical custody is critical, legal custody is arguably just as important. Legal custody gives a parent the right to make life decisions for their child, including those concerning education, medical care, religion, extracurricular activities, and discipline. 
Sole vs. Joint Custody
When a court grants one parent sole custody, this means they have both physical and legal custody of their child. A parent with sole custody is referred to as a "custodial parent." 
On the other hand, joint custody allows both parents to share custody of their child. Custody may not be a perfect 50/50 split, as it depends on the circumstances, but this type of custody does allow a child to spend much-needed time with both parents. 
Visitation 
Visitation is commonly at issue when one parent has custody. If a judge deems it fair and appropriate, they may grant the non-custodial parent visitation. Visitation is not to be confused with custody, as a parent with visitation rights does not have custody rights – they are two different things. 
The specifics of visitation vary. Visitation can be supervised or unsupervised. When a judge demands supervised visitation, the non-custodial parent is not allowed to be alone with their child. Instead, they must visit with their child at an agreed-upon location, like a park, family member's home, or visitation center, and have the visit supervised by a specific party, including a social worker or therapist. 
Unsupervised visitation does not require any supervision and can range from a few hours to overnight visits. 
A non-custodial parent is not automatically entitled to visitation. Parents are only granted visitation rights if the judge feels it is in a child's best interest and visitation does not pose any dangers to the child. 
Can Unmarried Parents File a Child Custody Case?
Like married parents, unmarried parents are allowed to file for custody. The primary difference is married parents seek custody during divorce proceedings, while unmarried parents file for custody independently.
It's worth noting there is no legal requirement for unwed parents to file for custody. The unmarried parents of a child can handle custody in a manner they see fit without ever needing legal intervention. However, when child custody issues arise and parents cannot seem to agree, this may require the help of attorneys and judges. 
Child Custody Laws for Unmarried Parents – Do They Differ from Those Concerning Married Parents?
Unwed parents often worry that the law may make it more challenging to handle a child custody case. In reality, custody laws are generally the same for both married and unmarried parents.
Custody laws aim to protect children and guide judges in making the best possible decision for a child's life and future. The law has the same goal whether a child has parents that are married or parents that never married. 
The Rights of an Unmarried Mother
As previously stated, unmarried mothers automatically have physical and legal custody of a child. In general, mothers tend to have more rights than fathers. Among the multiple reasons for this, there is no confusion regarding who a child's mother is. However, for fathers, establishing paternity is necessary. 
Mothers usually have more rights unless the paternity of a child is legally established. In that case, a father has equal parental rights.
Without a legally recognized father, a mother can make all decisions for their child. These decisions include everything from moving to a different location to allowing or not allowing their child to visit with their father. 
The Rights of an Unmarried Father
Under the right circumstances, fathers have rights. However, fathers have fewer rights than mothers. In many cases, they cannot intervene in a mother's decision-making regarding their child, specifically if they are not the child's legally recognized father. 
In order to have rights to a child and accomplish certain tasks, like getting child custody, a father must take the necessary step to prove their paternity and fight for their rights. Without this, there is very little they can do, if anything at all, in the eyes of the law. 
Parental Presumption
Texas law automatically recognizes a mother's rights when their child is born, but the same cannot be said for a father. There is, however, a "parental presumption" for fathers if any of the following are true:
The father is married to the child's mother when the child is born

The child is born 300 days or less after the father's marriage to the mother formally ends

The father marries the mother after the child is born and either agrees to be named on the child's birth certificate, asserts paternity by filing records with vital statistics, or formally agrees to support the child

The father lives with the child's mother continuously for the first two years of the child's life and represents himself as the child's father
If none of the above scenarios apply to a father's situation, they then need to take additional steps to establish paternity in an effort to protect their rights. 
Establishing Paternity
Paternity essentially means "legal fatherhood." You may act as a father without establishing paternity, but if you ever wish to assert your rights, this is a necessary step.
Simply putting a man's name on a birth certificate is never enough to prove they are the father of a child. More is required under Texas law. 
Generally, there are two ways to establish paternity: through an acknowledgment of paternity or court order.
An acknowledgment of paternity (AOP) is a document stating you are the father of the child. It can be filled out and completed at the hospital after a child's birth, or at a later date. It is critical for both the child's father and mother to sign the form for it to be valid. An acknowledgment of paternity is viewed as the "voluntary" method of establishing paternity. 
On the other hand, the "involuntary" way of establishing paternity is through a court order or adjudication of paternity. Typically, a court order is needed when either party does not wish to acknowledge paternity. Therefore, the mother or father can begin the court process. 
For adjudication of paternity, the filing party must file a "Petition to Adjudicate Parentage." Both parties must attend the scheduled court proceeding. If both parents agree the father is, in fact, the biological father, the court will enter an order adjudicating parentage. If there is any doubt or denial, the court can order paternity DNA testing. Should DNA test results come back proving the presumed father is the father, the court can then issue its order.
Should a father fail to appear at their scheduled court appearance, the judge may enter a "default order" declaring him the child's legal father. 
If there is a proceeding to establish paternity, the judge can also issue orders regarding custody, visitation, and support.
The Rights of a Parent
As a legally-recognized parent of a child, you have rights under this important role. As a whole, parents have the right to:
Spend time with their child

Make decisions for their child when the child is in their custody

Go to the child's activities, including school functions

Be a designated emergency contact for the child

Have access to health and education records, as well as the child's doctors and teachers

Consent to medical treatment for the child
It is essential to understand that although parents have these general rights, it does not mean these rights are guaranteed. It is possible for a parent to have their rights taken away under certain circumstances. If a judge deems a parent unfit and takes away their rights as a mother or father, they do not have any rights to their kids whatsoever unless they are re-established at a later date.
Determining Child Custody
Determining custody for the child of unwed parents is typically nothing different than establishing custody for a child of married parents.
Once a father has proven their paternity and is recognized under the law as a child's parent, they have a right to fight for custody, whether sole or joint. The custody arrangement a judge grants, however, is highly dependent on several details. 
Child Custody and the Best Interests of the Child
Regarding child-related matters, every state follows a specific standard referred to as the "best interest of the child" standard. Each state, however, defines this standard differently.
The Texas Supreme Court provides the factors it deems relevant and important when considering what is best for a child. These factors are nicknamed the "Holley" factors, as they stem from the case of Holley v. Adams.
The factors considered when trying to figure out a child's best interests typically vary based on a child's age and life stage. This is because a child's needs change and evolve as a child grows. An infant does not require identical care as a teenager.
Generally, factors important to a child's best interest include:
The physical and emotional needs of the child

The parental abilities of each parent

The stability of the home environment each parent can provide

The relationship between the child and each parent

The plans each parent has for the child
All in all, judges just want to do what is best for a child and help give them a happy life and bright future. This is regardless of the parents' marital status. Whether parents are married or unmarried usually does not have any bearing on their ability to be good parents and provide a stable, supportive, and loving environment for their children. 
Based on the judge's findings, they can decide the right type of custody arrangement between parents and enter a formal court order. 
A Fort Worth Child Custody Attorney Can Assist With Your Custody Case
If you have a child, regardless of whether you are married to your child's other parent or not, you may have rights. A Fort Worth child custody attorney can help you understand these rights and protect them for you, allowing you to be the best possible parent for your child.
The child custody lawyers at Mims Ballew Hollingsworth are dedicated to helping parents sort out their custody matters and seek the most favorable resolution for their children. Contact us today to schedule a consultation, and let's discuss how we can assist you.