How Much Does a Divorce in Texas Really Cost in 2023?
Apr 10, 2023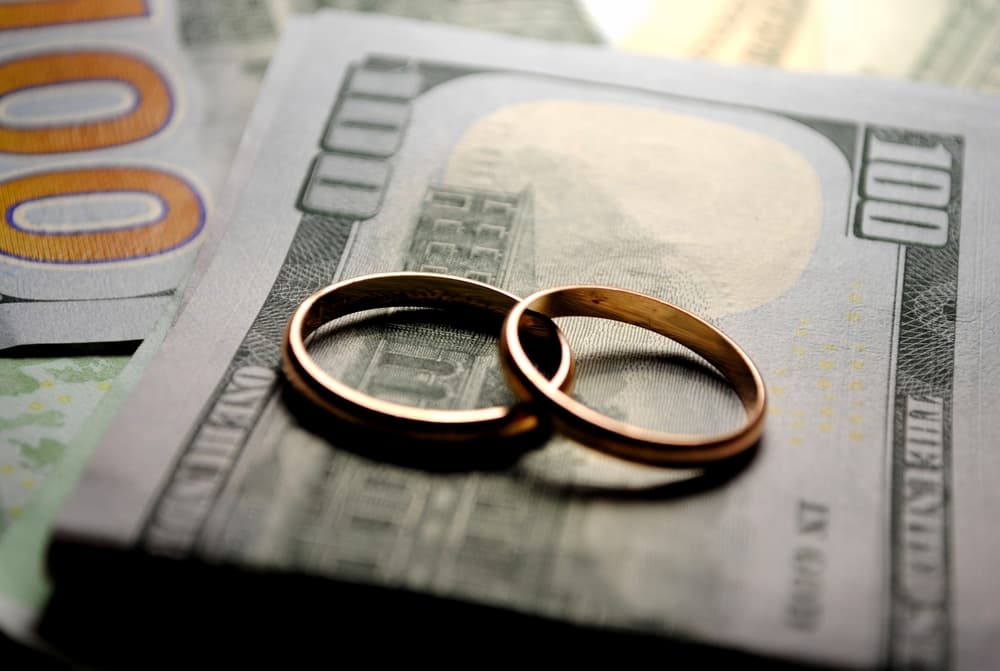 If you're facing a divorce, you naturally want to know how much it's going to cost you. There is, however, no direct answer to that, as expenses can vary widely depending on the circumstances. The main factors that affect costs include whether you hire a lawyer, how much you and your partner agree about the pertinent things in your divorce, and how quickly you can resolve disagreements.
Factors That Make Divorce More Or Less Expensive
Before looking at the numbers, it is important to understand the different factors of your situation and how they affect the cost.
Will you hire an attorney?
For most people, the biggest expense in their divorce will be the final attorney's bill. For this reason, your "gut feeling" might be to go through the divorce without an attorney. You may also consider online divorce services or choose to go the DIY route. The choice you make, of course, depends on your situation, especially with regard to the two questions that follow.
Do you have kids and complex finances?
Divorces can be quite complicated—and costly—when such issues as child custody and child support are involved. And in terms of finances, how are you going to divide the property? What about spousal support?
How much do you and your spouse agree on the issues?
You can save a lot of time and money if you and your spouse largely agree on the issues of the divorce, which makes it easy to reach a settlement agreement on each of those issues. Where divorcing partners agree, it may not even be necessary to hire a lawyer. If you still decide to work with a lawyer, costs will depend on the contested issues and whether or not you go to court to have those issues resolved. 
Attorney Fees: Understanding the Costs of Hiring a Divorce Lawyer in Texas
The cost of hiring a divorce attorney in Texas will vary depending on the circumstances and complexity of the case. Although some couples manage to go through a divorce without a lawyer, there are some cases where hiring a divorce attorney is strongly recommended. But however simple or complex your case seems to be, you might find it necessary to have a lawyer take care of the paperwork, handle the negotiations, and deal with other legal matters that come up in the divorce.
So how do you know whether you can afford to hire an attorney? Here are some estimates based on survey data:
Hourly Rates and Total Costs
The average hourly rate for lawyers across the US is $270. About seven in ten people paid a fee between $200 and $300 an hour. Two in ten paid $400 per hour, while one in ten paid $100 per hour. The highest rates were reported by lawyers in big cities on the coast.
The hourly rate does not, however, let you know how many hours will go into the total bill. According to survey data, the average final bill for people who hired a full-scope lawyer—that is, one who handled everything from the beginning to the end—was about $11,000. However, it's important to note that a few people with very high averages can skew the average.
To learn what the typical costs are for hiring a divorce attorney, we'll need to look at the median (this is the middle of the range, where about half paid less and the other half paid more). The median total cost was about $7,000, with about 42% paying $5,000 or less.
The number of hours your attorney needs to work on your case will vary depending on the complexity of your case, as well as how much you and your spouse agree on the issues in the divorce.
Again, it is worth noting that the total cost of a divorce depends on the unique circumstances of your family, so without the details of your case, it is almost impossible to tell how much you'll have to pay.
How Disputes and Going to Trial Affect Attorney Costs
Average costs aside, two factors that make a big difference in lawyer costs are the number of issues contested, and whether the partners reach a settlement or go to court on those issues. 
In the survey, average costs for those who didn't go to trial ranged from $4,000 to $10,400, with those on the lower side reporting no major issues to contest, while those on the higher side had at least one major issue in contention.
For those who went to trial, average costs ranged from $11,600 for trial on one or two contentious issues, and about $21,500 for three or more contentious issues.
Case Complexity and the Need for an Attorney
Issues in your divorce do not just affect the lawyer fees; they also affect whether or not you'll hire an attorney in the first place. In the survey, only a third of those with no contentious issues hired a full-scope lawyer, while just over 50% of those with one contentious issue hired a full-scope lawyer. Additionally, those who owned a house or a business were more likely to use a lawyer than those who didn't have these assets to divide.
Custody Battles and Divorce Costs
A drawn-out battle between the partners over child custody and visitation rights is one of the main drivers of high costs. When couples fail to agree on a parenting plan, even after mediation, the judge may ask for a custody evaluation. The typical cost for such evaluations is about $1,000 to $2,500 if done by the county, and as high as $15,000 if the parents go for a private evaluator. And if the parents fail to agree on one evaluator, each may decide to hire their own, which means double the cost.
Also, depending on the circumstances, the judge may order the parents to hire another attorney to represent the interests of an older child. The judge also might ask for a psychiatrist to evaluate both the parents and the child, and offer counseling if necessary.
Finally, the more couples argue over child custody, visitation rights, and child support, the more they are going to pay their lawyer. The lawyer will have to spend more time preparing and responding to motions, as well as showing up in court. The lawyer may also bill for responding to every phone call, text message, or email when, for example, you cannot reach an agreement with your spouse about weekend and holiday visits. The costs will continue to increase even after the divorce is finalized if the disputes persist.
Lowering Divorce Costs with a Consulting Attorney
If you find it hard to hire a full-scope lawyer, it may still be prudent to seek legal counsel at some point in your divorce. This would be to ensure that your rights are protected in any kind of settlement you reach. You may need a consulting attorney for some specific tasks, such as helping you understand and fill out divorce forms, drafting and reviewing proposed settlements, getting ready for mediation, or representing you in court.
In the survey, only about 10% of people hired a consulting attorney for their case. In this way, they saved a significant amount of money on lawyer fees, with the average final bill at about $4,600 and the median fee at $3,000.
Court Fees and Other Legal Expenses: What You Need to Know About the Costs of Filing for Divorce
With a full-scope attorney, your biggest expenses will be the lawyer fees. There are, however, some additional expenses. You'll need to pay filing fees as well as other court expenses (more on that below). And depending on your circumstances, you may also need to pay real estate appraisers, tax advisors, child custody evaluators, and other experts. The average cost for these fees was about $1,500, with the median at $500.
Divorce Costs without a Lawyer
If you and your partner go through the divorce either on your own or with the help of a mediator, the costs will likely be far lower than with an attorney. In the survey, couples that handled their divorce without a lawyer incurred an average of $925 in costs (excluding mediator fees). The more typical (median) cost was about $300. Here's a look at what went into those expenses.
Divorce Filing Fees
The court charges a filing fee when you file for divorce. If it's your spouse that kicked off the process by filing the initial petition, you'll still need to pay a fee for filing your answer to that petition.
Filing fees vary from one state to another, ranging from $100 to $400. The costs may be lower in some states (or counties) if you meet the criteria for simple divorce procedures, such as not having any minor children. In some states, you and your partner can save on these costs by filing the petition together if you're in agreement about all the issues in your divorce.
You may also incur some smaller court fees for hiring a process server, filing some more documents, and getting a certified copy of the final divorce decree. If you're unable to pay these fees, you may apply to the court for a waiver.
If you go for a contested divorce without a lawyer, there may be extra expenses for appraisals and evaluations—a judge may, for instance, order custody evaluations if you and your spouse have not agreed on the parenting plan.
Cost of Divorce Mediation
Today, more and more divorcing partners are turning to mediation in a bid to save money, but also to minimize the conflict and stress that comes with a divorce. Mediation can come in handy in a number of situations, such as:
You want an uncontested divorce, but can't seem to agree with your partner about an issue or a few issues. You can use a mediator in such cases before filing for divorce.

Requirement of the state—some states require mediation or allow the judge to require it in some cases once the couple has filed for divorce but are not in agreement about some issues, particularly child custody.

Getting help from a mediator at some point in the divorce proceedings, whether or not you and your spouse have hired attorneys. 
The cost of divorce mediation varies widely depending on your circumstances and whether you use a court-appointed mediator or go for private mediation. Typical private mediation costs range from $3,000 to $8,000, but the bill is split between you and your partner. Court-sponsored mediations are typically either free or low-cost. However, these mediations typically only cover disputes over child custody.
Division of Property and Assets: How the Division of Marital Property Affects Your Divorce Budget
Property acquired by either partner during the marriage is considered marital (or community) property and will need to be divided when the partners decide to divorce. In the same way, any debts acquired by either partner during the marriage are considered marital debts and will need to be divided between the divorcing couple.
Even in an amicable divorce, however, deciding which partner gets what can be quite the challenge. Divorce mediations often get derailed by discussions on the division of property. The division of property and assets is, therefore, an important process for each partner to understand before they start bickering over who gets what.
Separate vs. Community Property
When thinking about the division of property, an important distinction you need to be aware of is the difference between separate property and community (marital) property. Fundamentally, in any given state, separate property is anything you or your partner acquired before the marriage. Separate property also includes gifts given to a partner during the marriage, an inheritance acquired during the marriage, or compensation received by one spouse from a personal injury case.
Marital Property
Also referred to as marital assets, marital property may include the following:
Furniture and art

Real estate properties

Businesses owned by one or both partners

Vehicles

Jewelry

Investments and retirements accounts, including 401(k) plans and stock options
Anything purchased or earned by either partner during the marriage, even if it was only in one partner's name, is considered marital property. This applies as the general rule unless they both signed an agreement of sorts—such as a prenuptial agreement—to keep some assets separate.
In most states, only your marital property is divided between you and your partner, while you both keep your separate property. 
Marital Debts 
Like property, marital debts acquired during the marriage are shared between the divorcing partners. Common debts include:
Mortgages

Credit card bills

Tax obligations

Loans, including those for college, vehicles, etc.
Even if a loan or credit card was filed in one person's name, both parties would take responsibility if the debt was accrued during the marriage.
Asset Division in Community Property States
If you live in Texas or one of eight other states (California, Idaho, Nevada, Louisiana, Arizona, New Mexico, Wisconsin, and Washington), you're in a community property state. Anything accrued during the marriage in a community property state is considered community property up until the time of your legal separation. Historically, the laws in these states dictate that community property be divided equally between the partners, but some of the states are moving away from this requirement.
Equitable Property Division
Most states work with a rule known as "equitable division" when dividing property. Under this rule, assets and debts are distributed between the partners in a way believed by the judge to be fair (equitable). This means the property is not necessarily divided equally between the partners.
Additional Costs to Consider: Planning for Hidden Expenses in Your Texas Divorce Budget
When thinking about what a divorce is going to cost, some people only consider out-of-pocket expenses. But there are hidden costs to consider, such as:
Changes in relationship with the child—even in the most amicable of divorce cases, the divorce still impacts the child in certain ways. For example, they may need to change schools. They may also need to travel back and forth between their parents' residences, which can be a lot for a child to process. In a collaborative effort, the parents may hire a child psychologist to help the child navigate their feelings and cope with the changes that come with the divorce.

Moving costs—either you or your spouse may need to move out, so you'll need to take the moving costs into account.

Retirement savings—it's possible that you were saving for retirement with your spouse. In that case, you might share a joint retirement account. It'll cost you some administrative fees if you divide the money, and a hefty penalty if you try to move some of that cash.
Obtaining the Best Possible Divorce Outcome: Contact Us Today to Speak With a Texas Divorce Attorney
Divorce is costly, so you want to be in the best financial position for the future. For this reason, you may want to hire an expert divorce attorney, even if just on a consulting basis. Your attorney can help protect your rights when it comes to the division of property and assets, as well as in child custody battles.
Whether your divorce is contested or not, you can benefit from the legal counsel of our family attorneys at Mims Ballew Hollingsworth. With a wealth of experience helping clients navigate the complex issues of divorce cases, we understand what it takes to get the best possible outcome in a divorce case. Contact us online today or call 817-476-7964 to schedule your first consultation with us.